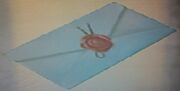 "A bulletin published periodically by the Olacion Order. It lists the times for gatherings and lectures."
—Details Window
The Olacion newsletter.
After completing the Smilodon Fang request, speak to Grant to find he's working on handing out Church Bulletins. He's not fond of taking them down to the businesses in the Beast Pit and will ask if Jack will do it for him. The bulletins go to Servia, the waitress of Club Vampire; Sonia, the owner of Chic Records; Lunbar, the owner of Dead End Armory; Silvia, the proprietor of the Club Vampire Casino; and Zeke, the owner of the Mysterious Creatures Inn. After passing the bulletins out to everyone and returning to Grant, he'll become your friend.
Ad blocker interference detected!
Wikia is a free-to-use site that makes money from advertising. We have a modified experience for viewers using ad blockers

Wikia is not accessible if you've made further modifications. Remove the custom ad blocker rule(s) and the page will load as expected.