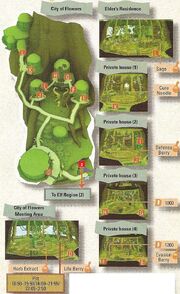 The City of Flowers is light elf city. Early in the game Jack Russell, along with the rest of the Rose Cochon Brigade and Genius Weisheit, travel to the City of Flowers in an attempt to bring a letter of some political importance to the light elf leader, Lord Zane. They are stopped at the gate of the city by the elves Shin and Fan. Eventually, the Rose Cochon and Genius travel to the Forest Metropolis to speak with leader of the dark elves, Lord Nogueira in hopes that can get them into the City of Flowers.
On the human path, Jack never enters the City of Flowers
On the non-human path, Jack is able to enter the City of Flowers at will once Fort Helencia has been taken.
Ad blocker interference detected!
Wikia is a free-to-use site that makes money from advertising. We have a modified experience for viewers using ad blockers

Wikia is not accessible if you've made further modifications. Remove the custom ad blocker rule(s) and the page will load as expected.