Glory Axe
Element

Fire

Type

Axe

CP

7

Cost

None

Strength

63

Maker
Usable

Yes

Affliction
Map Location

  [Source]
"An honarary axe given only to Captains of Royal Knight Brigades. It belongs to Ridley, captain of the Argent Faucon brigade."
—Details Window

The Glory Axe is an axe that Ridley Silverlake uses. Jack Russell can also use it after the non-humans take over Fort Helencia during the Nonhuman Path, when Ridley has changed to the Blaze Axe. It can be found in a treasure box in the fort.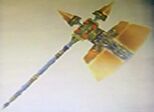 Ridley's version of the Glory Axe is subtly different from Jack's in which it has a blue/silver handle.
Ad blocker interference detected!
Wikia is a free-to-use site that makes money from advertising. We have a modified experience for viewers using ad blockers

Wikia is not accessible if you've made further modifications. Remove the custom ad blocker rule(s) and the page will load as expected.