Gold Dragon Castle is a location in Radiata Stories. It is attached to the top of the City of White Nights. There is a temporary save flag as well as a healing circle at the bottom of the tower.
At the top of the tower, Ridley is found communing with Quasar, the gold dragon. Regardless of which Path is chosen, Jack will interrupt the communion, then end up fighting Lucian, who is revealed to be Aphelion, the silver dragon, who wants to rule the whole of the world without the other dragons getting in his way. The dialogue and eventual ending scenes differ for each path, but Aphelion dies either way.
Area Map:
Edit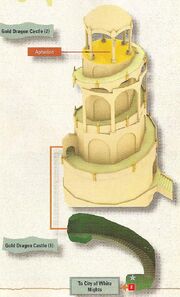 Ad blocker interference detected!
Wikia is a free-to-use site that makes money from advertising. We have a modified experience for viewers using ad blockers

Wikia is not accessible if you've made further modifications. Remove the custom ad blocker rule(s) and the page will load as expected.