"Armor made from a special metal forged only in the east. Very different from the kind of armor normally found in Radiata."
—Details Window

The Samurai Armor can be bought during the Human Path at the Dead End Armory. It is also the armor used by Caesar. Jack and Caesar's Samurai Armor are slightly different from each other.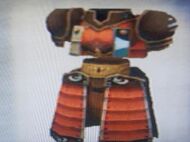 Ad blocker interference detected!
Wikia is a free-to-use site that makes money from advertising. We have a modified experience for viewers using ad blockers

Wikia is not accessible if you've made further modifications. Remove the custom ad blocker rule(s) and the page will load as expected.