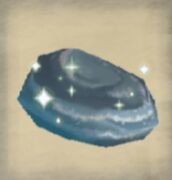 "Shiny ore hidden deep in the dwarf mines. An extraordinary ore that can perhaps be found once every hundred years."
—Details Window
During the nonhuman path, Dyvad will ask you to bring him this ore from the mines in Earth Valley. It can be found by defeating the Earth Cell in the large room at the end of one of the Dwarf Tunnels. Upon returning it to Dyvad, you can recruit him.
Ad blocker interference detected!
Wikia is a free-to-use site that makes money from advertising. We have a modified experience for viewers using ad blockers

Wikia is not accessible if you've made further modifications. Remove the custom ad blocker rule(s) and the page will load as expected.