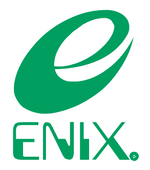 Square Enix is the company that published Radiata Stories for the PlayStation 2.
Square Enix a combination of two companies, Square Co (otherwise known as Square Soft) and Enix, where originally both companies were in the video games industry even though Enix published manga such as the highly successful Fullmetal Alchemist and lesser known Pani Poni Dash!. The two companies merged on April 1, 2003, in which the former President of Square Enix, Yoichi Wada, is transferred across from Square Co, where over the resulting years it has built a large name for itself with releases such as Kingdom Hearts and additions to Squares original best sellers Final Fantasy and Dragon Quest. Its current president is Yosuke Matsuda, after Yoichi Wada announced his resignation on March 26, 2013. Square Enix's headquarters is in Shinjuku, Tokyo, Japan.
External links
Edit
Ad blocker interference detected!
Wikia is a free-to-use site that makes money from advertising. We have a modified experience for viewers using ad blockers

Wikia is not accessible if you've made further modifications. Remove the custom ad blocker rule(s) and the page will load as expected.