"Made from fibers of wind element ore powder. It is light as a feather yet durable. Nullifies paralysis."
—Details Window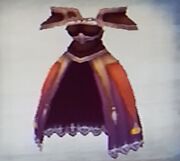 The Wind Garb is armor used by Alicia and can be used by Jack Russell. It has the highest defence of any armor Jack can use before the split and can be bought at the Dead End Armory.
Ad blocker interference detected!
Wikia is a free-to-use site that makes money from advertising. We have a modified experience for viewers using ad blockers

Wikia is not accessible if you've made further modifications. Remove the custom ad blocker rule(s) and the page will load as expected.